Introduction
Ectopic canines are most commonly involving the maxilla. Early identification is required for referral and effective management. In this post, we will look at examining and potential methods of management for ectopic canines.
This post is heavily based on recommendations by the Royal College of Surgeons.
Background
Typically, canines should be palpated at 9-10 years of age, and should erupt a few years later
Prevalence of between 1-3% (second to impacted mandibular third molars)
3:1 ratio of palatal to buccal impactions (<10% bilateral)
Aetiology – likely to be multifactorial. Commonly implicated factors include familial factors, missing/diminutive/malformed lateral incisors (guidance theory) and late developing dentitions
The most serious potential complication of an ectopic canine is root resorption of adjacent teeth. Other risks include cyst formation
Examination
Clinical
Clinical examination is key to early identification of ectopic canines. Palpation for maxillary canines should begin around the age of 9 in the buccal sulcus. Features to assess clinically include:
An absence of a buccal canine bulge is an indication of impaction
Presence of a palatal swelling may indicate palatal positioning
Mobility of deciduous canine – a lack of mobility may be concerning
Arch space – a lack of space may promote impaction
Splaying or angulation of the lateral incisor may indicate abnormal positioning
Radiographic
Radiographic examination is useful to confirm the clinical findings. They should typically be considered after the age of 10. Parallax is the key to effective evaluation with radiographs. Parallax refers to the apparent movement of an object based on the position of the beam. This allows localisation of the canine. We must consider the movement of the x-ray tube relative to the canine position and apply the SLOB rule – Same Lingual Opposite Buccal i.e. if the tube and the canine move in the same direction, then the tooth is likely lingually positioned.
There are 2 types of parallax that could be used:
Horizontal parallax – this could either be 2 periapical radiographs, or a periapical and an upper standard occlusal
Vertical parallax – an upper standard occlusal and OPT or a periapical and an OPT
Radiographs can also be used to assess features such as root resorption, cyst development and presence of other abnormalities. CBCT imaging has also been used more recently to evaluate position and associations of canines.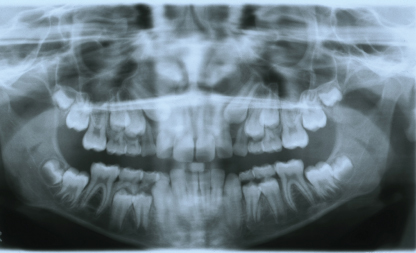 Management
There are numerous management options for ectopic canines:
1) Interceptive extraction of deciduous canine
This is only suitable if the permanent canine is minimally displaced
It must be done before the age of 13, ideally before the age of 11
Close radiographic follow-up is needed to monitor the movement of the permanent canine – if no movement 12 months post-extraction, then alternative options must be considered
2) Surgical exposure and orthodontic alignment
This would either be through an open (allowing natural eruption) or closed (bonding a chain) exposures.
Patients must be well motivated to undergo surgical and orthodontic treatment, including wearing fixed appliances
Cases where interceptive treatment is not feasible
Canine is not so grossly displaced that it is unlikely to move sufficiently
3) Surgical removal of ectopic canine
Assessment of the existing dentition is crucial to treatment planning e.g. consideration of space between the lateral and first premolar and camouflaging appropriately. Indications include:
The patient may not want intensive orthodontic management or may not be co-operative to wearing fixed appliances
Root resorption may be identified of adjacent teeth
4) Transplantation
This option is only considered when other options are not feasible or have failed. Possible indications and requirements include:
Patient has declined active orthodontic treatment
Deciduous canines have a poor prognosis
Sufficient room within the arch to accept the canine
Ideally, this should be carried out prior to complete root formation. If the root is >75% formed, the likelihood of requiring root canal treatment increases.
5) Leave and monitor
This may be the appropriate option if a patient does not want any treatment and is happy with their appearance. It is important to rule out any damaging effects of the ectopic canine e.g. resorption, cystic changes.
Ectopic Canines Conclusion
Ectopic canines should be identified early through effective clinical and radiographic examination. There are multiple management options including extraction of the deciduous or permanent canine, surgical exposures, transplantation and monitoring. The treatment option chosen must be suitable after considering the patient, their dentition and their prognosis.
Quiz
References and Recommended Reading
We are sorry that this post was not useful for you!
Let us improve this post!
Tell us how we can improve this post?
📰 Subscribe Now! 📰
Sign up to the dentalnotebook newsletter to be kept up-to-date with the latest posts and valuable content!